Remembrance Day
Remembrance Day
11 November 2019 (by D Plowman (dplowman))
We have taken time today, the 11th day of the 11th month, to take part in Remembrance Day.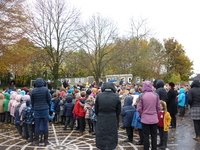 Last week, the year 6s were visiting classes so that children had the opportunity to buy poppies - thank you to all who sent children in with money to make their donations.
This morning, we had a slightly later playtime than we are used to so that at 11 o'clock, we could all participate in a minutes silence. Mr Clark lead the silence and we could also hear the air raid sirens from town because we were all so quiet, even though it was rainy and quite cold!