Shoebox Appeal
Shoebox Appeal
10 November 2019 (by D Plowman (dplowman))
A thank you for all of your shoeboxes.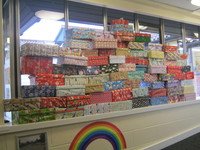 Thank you to everyone who has taken part in our Christmas appeal and bought a shoe box full of special treats for children who are less fortunate.
We created an impressive wall of all of them! When collection day came around, we had an impressive 72 boxes - well done everyone! We are sure that this will make so many children smile on Christmas morning.