Jubilee Celebration Day
Jubilee Celebration Day
27 May 2022 (by D Plowman (dplowman))
Check out some of the photos from our special Platinum Jubilee celebrations.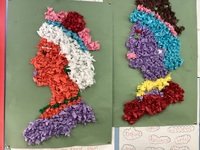 Today we have had a very special day celebrating the Queen's Platinum Jubilee. We have taken part in loads of fun activities, from dancing to collaging to creating digital art and even to songwriting!
In the afternoon, we went out to the field in our own handmade crowns for a special afternoon tea treat. We enjoyed having a snack and a chat before gathering together to sing the special song that Mr Cole wrote specially for the occassion.
We had an amazingly fun day, and you can check out some more of the photos on our events page.